Who we are
Today Benetton Group is one of the best-known fashion companies in the world, present in the most important markets
in the world with a network of about 4,000 stores; a responsible group that plans for the future and lives in the present,
with a watchful eye to the environment, to human dignity, and to a society in transformation.

The Group has a consolidated identity comprised of colour, authentic fashion, quality at democratic prices and passion for its work: these values are reflected in the the strong, dynamic personality of the brands United Colors of Benetton and Sisley.
People in Benetton Group
More than 6000 employees all over the world, women representing 75% of them.
Spoken languages: Italian, English, French, Spanish, Portuguese, German, Icelandic, Swedish, Finnish, Danish, Dutch, Norwegian, Walloon, Greek, Serbian, Croatian, Turkish, Albanian, Catalan, Russian, Hebrew, Arabic, Romanian, Hungarian , Polish, Czech, Slovak, Slovenian, Chinese, Japanese, Indonesian, Korean, Filipino, Indi, Yiddish, Malay.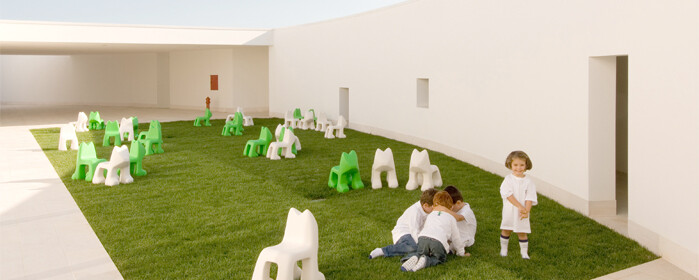 The Ponzano Children Children's centre opened its doors to pre-school children from 9 months to 6 years old in the 2007/08 school year. It is an educational and cultural centre where the nursery and kindergarten co-exist and where children and their families can have access to long term educational continuity which allows them to develop familiarity with the places and the people there. It is an experience that originated from within the Benetton Group, from listening and talking with the local people in the area. The Group, aware of the ethical and social role of an advanced company culture, committed itself to developing an educational service based on relationships, research and the wellbeing of children and the local community. In order to do this the Benetton Group took the advice of Reggio Children, who collaborated among other things in developing the pedagogic and organisational project of Ponzano Children.
The centre was designed by internationally acclaimed Spanish architect Alberto Campo Baeza, who speaking about his work said: "Our aim was to create a nursery school that not only functions impeccably, but is also able to offer a series of diverse spaces; a living building where children can dream and be happy".
Diversity
Benetton Group recognises diversity as a source of enrichment, and offers opportunities without discrimination.
Diversity and equal opportunities represent fundamental values in the company and are clearly mentioned in the Group's Code of Ethics.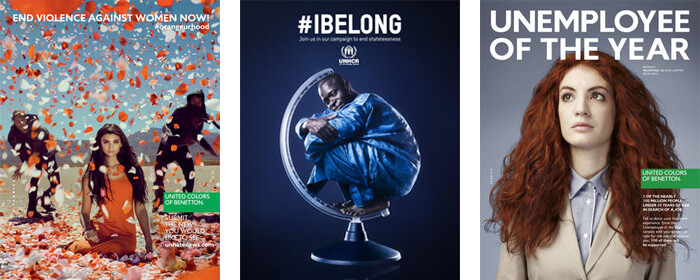 Benetton Group guarantees impartiality and is committed to avoiding discrimination of every kind (age, sex, state of health, race, nationality, political opinions, religious creed, social and personal conditions), guaranteeing that every man and woman inside the company is treated with respect.
Benetton Group recognises the importance of human resources, protecting and promoting their value with a policy based on recognising merit and on equal opportunities, providing specific training programmes such as professional refresher courses and programmes aimed at acquiring new skills.
Benetton Group is committed to maintaining a relationship with its employees based on loyalty, transparency and mutual respect, without discrimination, offering employees the equal opportunities and guaranteeing everyone the opportunity for professional development based on objective, meritocratic criteria.