2005 First Half Results approved by Benetton Board
Consolidated revenues 842 million euro, net income 63 million euro
Ponzano, 21 September 2005 – The Benetton Group Board of Directors today approved the 2005 first half consolidated results, prepared in accordance with International Financial Reporting Standards (IFRS).
Revenues for the first half of 2005 were 842 million euro, compared with 860 million in the corresponding period of 2004. Revenue performance was mainly affected by the more aggressive sales policy starting with the 2005 fall/winter collection and benefited from improved product mix, as well as from initiatives undertaken for development of the sales network.
The contribution margin was 36.6 per cent of turnover, compared with 37.2 per cent in the same period of 2004, influenced mostly by the above-mentioned sales policy, in part offset by the high production efficiencies achieved.
The reduction in general and administrative expenses made possible an EBIT of 11.2 per cent of revenues (95 million euro) against 11.8 per cent for the first half of 2004.
Net income for the period was 63 million euro and 7.4 per cent of revenues, compared with 69 million in the first half of 2004.
Net Group investments in the first half of 2005 amounted to 39 million euro, mostly dedicated to the sales network, compared with 29 million euro in the first six months of 2004.
Free cash flow from normal operations in the first six months was positive by 72 million euro (43 million excluding the sale of 29 million euro of securities), improving from 32 million euro in the same period of 2004.
The net financial position was 475 million euro, compared with 568 million as of June 30, 2004 and 441 million euro as of December 31, 2004. The change compared with year-end was due, apart from normal cyclical movements of working capital, to investments made and dividends paid.
For detailed figures, please refer to the tables in the Word and PDF documents.
Benetton Group Results (in millions of euro)
Consolidated statement of income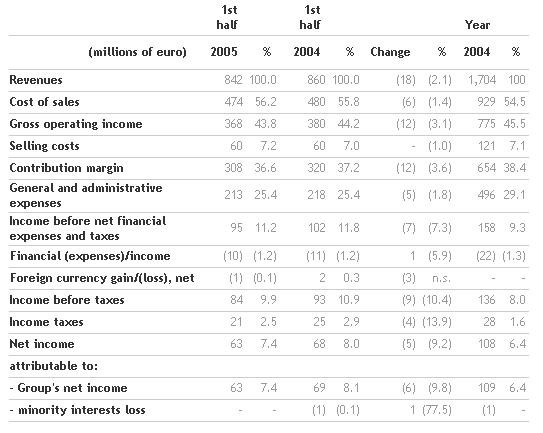 Financial situation - highlights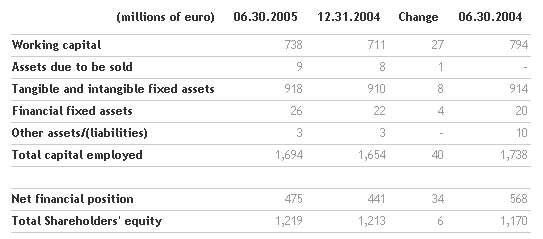 Statement of cash flow

(A) Includes sale of securities of 29 million euro.
(B) Includes payment of substitute tax of 98 million euro.
(C) Includes, for 35 million euro, the residual effects of the sale of the sports equipment business.
Benetton Group S.p.A. Results
Statements of income reclassified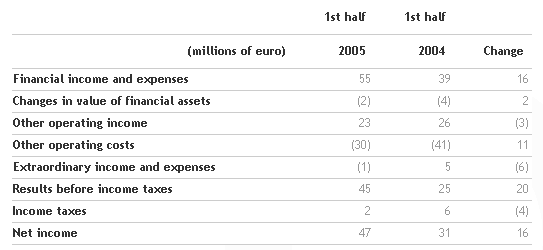 Financial situation

For further information: