Benetton brightens Paris.
Two New United Colors of Benetton Megastores Opening Today in the Heart of the Fashion Capital of the World Two more large stores to be opened in 2002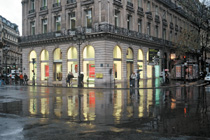 Ponzano, 21nd November, 2001. Benetton conquers the heart of Paris with the opening of two new megastores, at Place de l'Opéra and on the Champs Elysées. In the fashion capital of the world, where it opened its first store outside Italy in 1969, Benetton will present in the best way possible its identity for today and tomorrow: global yet very Italian in taste, color and insistence on quality. In 2001 the sales network has grown faster than ever, and by year end there will be about 100 megastores worldwide.
In both of the Paris stores opening today, each more than 1,000 square metres, the lively colors of the collections are shown off by a white, minimalist background that highlights the clothing and helps customers make their selections.
At the megastore at Place de l'Opéra 3, the lower-ground level displays the complete new men's collection, while the women's collection is on the ground floor. Other women's lines, the Undercolors collection and accessories share the upstairs floor.
The megastore at 66 Avenue des Champs Elysées offers the complete range of United Colors of Benetton collections for women, as well as the Undercolors lingerie collection and a vast assortment of accessories displayed on the two mezzanine floors.
The opening of the Paris megastores, which will continue with two other prestigious locations on Rue de Rennes and Boulevard Haussman, is part of a development program that is creating a network of the Benetton image in the most prominent shopping streets of the major world cities. The megastores, including those directly managed, are the Group's response to an increasingly saturated market where customers already have everything they need and have to be tempted by design, atmosphere, and the quality of in-store customer service that can satisfy even their unspoken or unconscious desires. New megastores will soon open in cities including New York (3), Osaka, Lisbon, Madrid, Barcelona and Venice.
For further information: