Benetton Group Board of Directors approves the 2012 first quarter results
Revenue and income down, in line with expectations
Revenues € 428 million, -5.5% against first quarter 2011
Gross operating profit slightly down due to the increase in raw material costs (44.0% against 44.7% in 2011)
Net income € 10 million (2.4% of revenues)
Net financial position € 687 million against € 534 million at March 31, 2011
Delisting from the Milano Stock Exchange (MTA) as of May 31, as Edizione S.R.L. now holds over 95% of the share capital of Benetton Group.
Ponzano Veneto, May 15, 2012, at 03.20 p.m. CET – The Benetton Group Board of Directors examined and approved the consolidated results for the first quarter of 2012.
Revenue performance by geographic area, brand and collection
Group net revenues in the first quarter of the year were € 428 million, down in line with expectations compared with the same period of 2011 (-5.5% at current exchange rates and -5.7% currency neutral). However, direct sales performance was positive on a like-for-like basis, with 6.1% growth compared with the same period of the previous year, to which is added a further increase following the take over of some stores previously managed by partners.
Developing and high growth markets confirmed the positive trend of recent quarters, with growth in Russia, Mexico, Korea and India. However, the rest of Latin America, China and Turkey were down.
Traditional western markets showed growth in continental Europe, partly due to the positive direct sales results, and modest growth in the USA. However, Southern European countries were down, including the Italian domestic market, still influenced by recessionary economic conditions. There was a total fall in revenues in these markets of 7.9% at current exchange rates and 8.4% currency neutral.
Overall, taking of orders for the Spring/Summer collections is closing with a reduction of around 3% compared with Spring/Summer 2011.
Income performance
The Benetton Group CEO for Operations, foreign Business Units and Finance, Biagio Chiarolanza declared: "The first quarter of 2012 ended in line with our expectations, with an unsatisfactory result, again influenced by the high cost increases – especially for raw materials – which characterised the closing months of 2011. We know that the repositioning will not be easy and the first quarter results confirm that. Nonetheless, the process is underway and will continue with determination, even though, with the economic crisis affecting the principal markets for our products, a rapid recovery cannot be expected."
Gross operating profit for the quarter was € 188 million (€ 203 million in the corresponding period of 2011), equivalent to 44.0% of revenues (44.7% in the comparative period). The reduction was attributable to the already mentioned increases in raw material costs, particularly cotton and wool, which resulted in a corresponding increase in cost of sales.
The contribution margin was € 155 million, against € 167 million in the reference period, and was 36.1% of sales.
Operating profit was € 12 million (€ 34 million in 2011), 2.8% of revenues compared with 7.5%, impacted by a large reduction in structural costs, which was offset by a cost increase of direct sales, following the take over of stores previously operated by third parties, and reduction in some extraordinary income. Non-recurring costs associated with the recently finalised Public Purchase Offer were also taken into account in the quarter.
The results of foreign currency hedging were positive in the quarter, and the average tax rate was slightly lower than in the past. As a result, net income was € 10 million, equivalent to 2.4% of revenues (€ 19 million in the first quarter of 2011, equivalent to 4.3% of revenues).
Balance Sheet
Compared with March 31, 2011, working capital increased by € 142 million: in fact, trade receivables increased by € 74 million due to a slow down in cash receipts, especially in the Mediterranean area, and product inventories grew by € 47 million, largely due to the impact of increased raw material costs. Trade payables fell by € 33 million, due to the combined effects of longer terms of payment and lower purchase volumes.
In the first quarter, the Group made net investments of € 34 million, compared with € 27 million in the corresponding period of 2011. Most of these investments were for renewal of the stores network.
Net financial indebtedness was € 687 million compared with € 534 million at the end of March 2011, with an increase of € 139 million compared with December 31, 2011.
Outlook for the year
The new year started with positive results in respect of direct sales in nearly all countries in which the Group operates. The very difficult economic situation, especially in the Group's principal markets, the recessionary situation in Southern Europe and the general difficulty of access to credit for small businesses, which represent the majority of Benetton Group customers, are still affecting sales to the wholesale channel.
Taking of orders for the 2012 Spring/Summer collections of the various Group brands has now ended, in line with expectations, with a slight downward trend compared with the comparative collections in the previous year. Based on the above considerations, it is expected that a similar trend could occur for the coming 2012 Fall/Winter collections.
The most recent data indicates some easing in the prices of raw materials, and of cotton in particular, with positive impacts on margins as from the second half of the year. The Group will continue to act with determination to achieve maximum efficiency of production processes and sourcing, and the optimization of costs relating to both the central structure and those associated with direct sales activities. As already stated, due mainly to pressure on revenues, an improvement in Operating Profit will not be possible and, due to the increased cost of indebtedness, Net Income may also fall slightly.
The net financial position is expected to improve, compared with the end of 2011.
Delisting of Benetton Group shares
Following communication by Edizione S.r.l. that it holds over 95% of the share capital of Benetton Group S.p.A., Borsa Italiana S.p.A. has announced that Benetton Group ordinary shares will be delisted from the Mercato Telematico Azionario (MTA) as of May 31, 2012, with suspension of trading on May 28, 29 and 30, 2012.
Benetton Group consolidated results
(unaudited)
Consolidated statement of income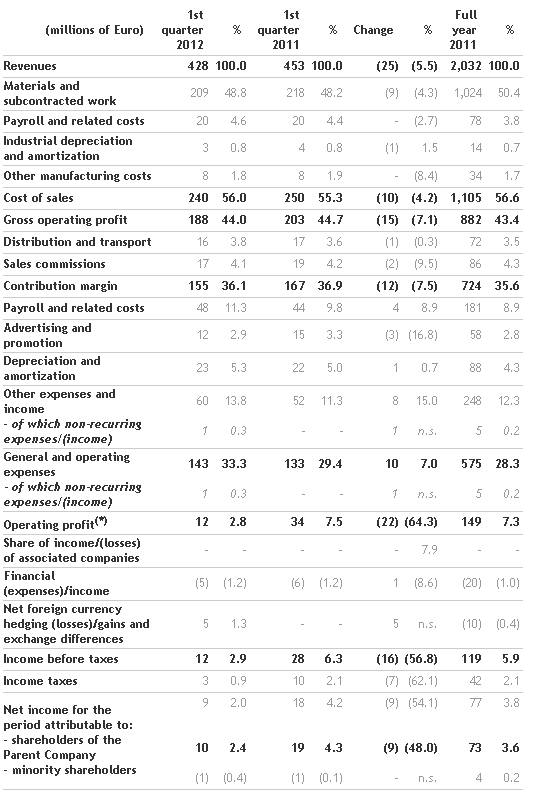 (*) Trading profit was 13 million, representing 3.2% of revenues (34 million in first quarter 2011 representing 7.5% of revenues, 154 million in 2011 representing 7.6% of revenues).
Balance sheet and financial position highlights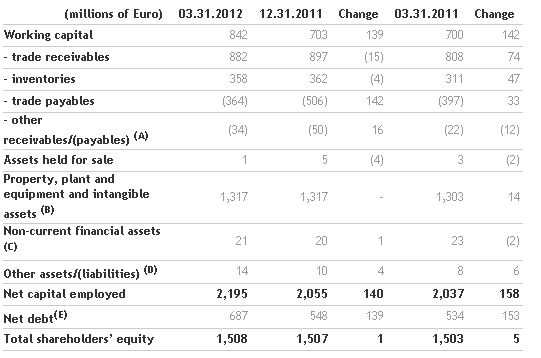 (A) Other receivables/(payables) include VAT receivables and payables, sundry receivables and payables, non-trade receivables and payables from/to Group companies, accruals and deferrals, payables to social security institutions and employees, receivables and payables for fixed asset purchases etc.
(B) Property, plant and equipment and intangible assets include all categories of assets net of the related accumulated depreciation, amortization, and impairment losses.
(C) Non-current financial assets include unconsolidated investments and guarantee deposits paid and received.
(D) Other assets/(liabilities) include retirement benefit obligations, provisions for legal and tax risks, the provision for sales agent indemnities, other provisions, current tax receivables and liabilities, receivables and payables due from/to holding companies in relation to the group tax election, deferred tax assets also in relation to the company reorganization carried out in 2003, deferred tax liabilities and payables for put options. (E) Net debt includes cash and cash equivalents and all short and medium/long-term financial assets and liabilities.
Financial position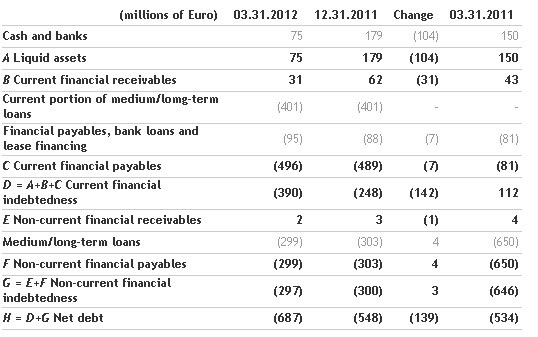 Cash flow statement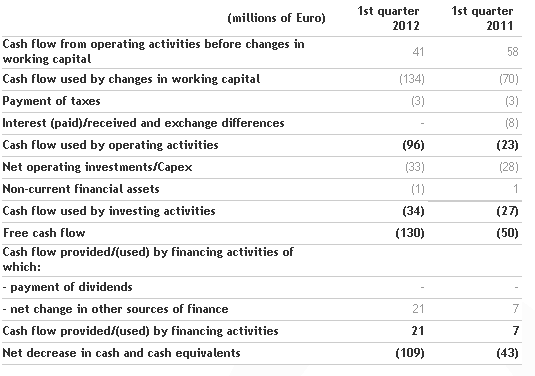 Alternative performance indicators
In addition to the standard financial indicators required by IFRS, this press release also contains a number of alternative performance indicators for the purposes of allowing a better appreciation of the Group's financial and economic results. These indicators must not, however, be treated as replacing the standard ones required by IFRS.
The following table shows how EBITDA and ordinary EBITDA are made up.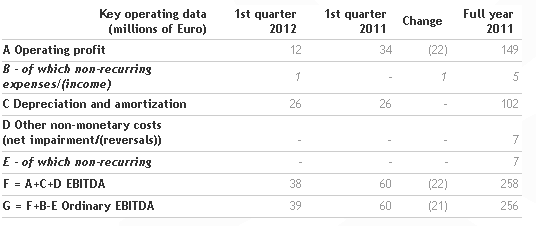 Declaration by the manager responsible for preparing the company's financial reports
The manager responsible for preparing the company's financial reports, Alberto Nathansohn, declares, pursuant to paragraph 2 of article 154-bis of the Consolidated Law on Finance, that the accounting information contained in this press release corresponds with the document results, books and accounting records.
Disclaimer
This document includes forward-looking statements, specifically in the section entitled "Outlook", relating to future events and operating, economic and financial results of the Benetton Group. By their nature, such forecasts contain an element of risk and uncertainty, because they depend on the occurrence of future events and developments. The actual results may differ significantly from those announced for a number of reasons.
For further information: