Board approves company reorganization and calls shareholders' meeting
Half-year accounts approved: net profit 50 million euro, normalised net income +23%. Executive Committee to be formed
Ponzano, 11 September 2003 - Benetton Group's Board of Directors has approved results for the first half of the year, including consolidated revenues of 969 million euro, with two percent volume growth in the clothing division. Revenues were influenced by the reduced contribution from the sporting equipment brands (disposed of during the period) and by exchange rate trends against the US dollar and the yen, without which net sales would have been in line with those of the first six months of 2002.
Normalised consolidated net income, before extraordinary and non-reoccurring items which consisted mainly of the Italian companies' tax amnesty and the writedown of certain assets relating to the commercial network, was 73 million euro, up from 60 million euro in the first half of 2002.
The gross operating income, at 415 million euro against 453 million for the first half of 2002, suffered from the previously mentioned currency impact and from a different product mix.
Income from operations was 130 million euro, with little change on the first half of 2002, thanks chiefly to a reduction in general and administrative costs. Ordinary income (income from operations less net financial charges and foreign exchange gains/losses) came to 122 million euro, rising one point as a percentage of revenues (12.6%) thanks to the positive effect of exchange rate hedging policies.
Self-financing for the period was 157 million euro, compared with 188 million in the first half of 2002.
Net indebtness improved from 613 million euro as of 31 December 2002 to 571 million euro at the end of June, due mainly to the sale of the sporting equipment brands.
Net of currency impact and taking account of the sporting equipment division disposal, revenues should be in line with those of the previous year. The group moreover expects to close 2003 with a normalised net income at least matching the (normalized) 128 million euro of 2002. Investment for the year should see little change on 2002, while net indebtness is likely to decline sharply, thanks in part to the cash flow generated by the sale of the sporting equipment division.
The Board of Directors also approved the proposal for the company reorganization, which aims to decentralize operational activities into dedicated units. The move is intended to bring the corporate and operational structure into line with the group's new strategies, improve the efficiency and competitiveness of the individual areas run by specific operating companies and, ultimately, bring the group ever closer to its market. A shareholders' meeting has been called for the necessary approvals.
Lastly, the Board of Directors voted to form an Executive Committee made up of Chairman Luciano Benetton, Managing Director Silvano Cassano, and Directors Alessandro Benetton and Gianni Mion, in the interests of faster and more effective decision-making.
Group results (in millions of Euro)
Consolidated income statement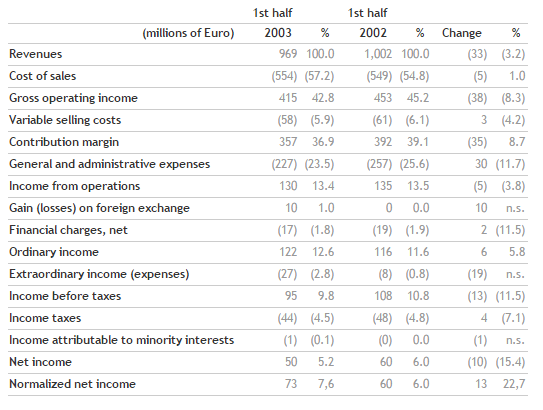 Financial situation

Summary statement of cash flows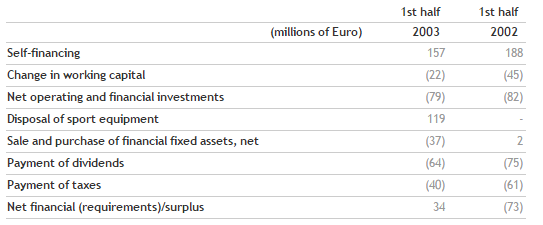 Benetton Group S.p.A. results
Statement of income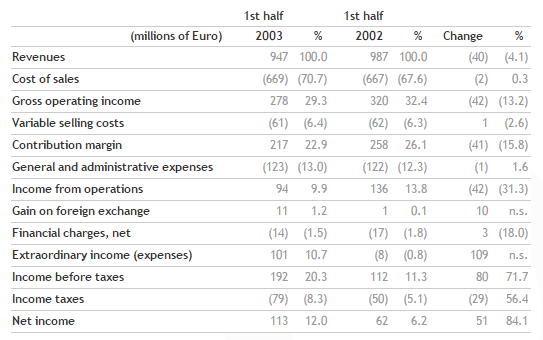 Financial situation

For further information: