COLORS: LUST Issue 64, Spring 2005
Sex, power, food, money, knowledge, territory, blood, fame, revenge, peace and quiet. almost everyone on the planet lusts for something. find out what and why: colors spring 2005.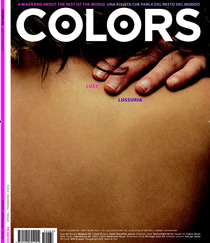 Just in time for spring COLORS presents its LUST issue. Of course it's not just sex… This is COLORS, and true to form we go on the hunt for all sorts of intense desire — and uncover where longing turns obsessive.
A COLORS exclusive: Photojournalist Stephen Ferry takes us to the northern coast of Colombia where locals enjoy a gruesome kind of bullfighting. There are no drugged, abused bulls here. Instead, hapless amateurs put themselves in mortal danger — for the thrill and 15 minutes (or less) of fame.
First time in print: COLORS was given unprecedented access to a remarkable Los Angeles sex club. Behind closed doors, adventurous couples meet, mingle, flirt, and get down. Cameras are verboten at this ultra-discreet venue — so our investigative team drew us a charming, very detailed picture instead.
Photographer Héctor Mediavilla Sabaté has spent the last two years in Europe and the Democratic Republic of Congo taking pictures of diehard devotees of the controversial pop star Papa Wemba: the sapeurs don't worship his music so much as his high fashion.
It wouldn't be an issue about lust if we didn't include the crazed desire for political power. In Turkmenistan, President Saparmurat Niyazov is making a remarkable bid for godlike omnipotence. He's renamed months after himself and his family and written his own religious manifesto.
COLORS Lust charts world appetites, interviews a famous playboy and veteran prostitutes, delves into the nature of animal desire and the wildly ranging obsessions of collectors, reflects on infidelity, takes a measuring stick to the world's-tallest-building contest, and makes inquiries into the lustful (or unlustful) nature of chastity.
But Lust is a highly subjective subject, and we want to know what COLORS readers think and see. So we're launching the first-ever online COLORS photography competition: "What Does Lust Look Like?" with categories in Art and Photojournalism. Winners will be published on the COLORS website, launching along with the Lust issue in June. Our panel of jurors will include the magazine's editors along with special guests: Anna Lopriore of Trolley Books; Bennett Simpson associate curator of the Institute of Contemporary Art in Boston, and others — to be named.
See PDF version for cover and press release.
For further information:
+39 0422 516209
colorsmagazine.com