Fonts make music in 'The quick fox and the lazy dog'
Fabricamusica's latest experiment is an unusual blend of music and typefaces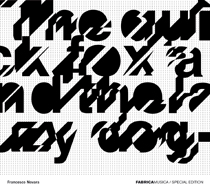 Ponzano, May 2008.  Typefaces were the key inspiration for The quick fox and the lazy dog, the latest CD in Fabrica's music collection, whose title derives from the pangram commonly used for trying out a font.
The CD opens with Helvetica, one of the world's favourite typefaces, imagined in this case as a great star performing in a club for a crowd of fans. Cooper Black draws inspiration from black voices of the New Orleans of the Roaring Twenties, the same years in which this typeface was designed. Then Courier, whose name derives from the typeface designed for typewriters and creates a workplace mood; sounds reminiscent of office machines – faxes, printers, mice, keyboards – mark the track's beat. Blackletter takes us back in time to the time of end-of-the-century music hall when Gothic/medieval typefaces such as this were first designed. Cottonwood gallops off to the Far West and evokes the atmosphere of westerns. Stencil suggests an alphabet of cut-outs for writing on various kinds of surfaces and pays homage to the street and underground worlds.
The presentation of the book Colors Notebook at TYPOBerlin is also the occasion for the launch of this CD published by Nuova Stradivarius.
The CD's theme links with the contents of Colors Notebook vol. III. After faces and violence (the subjects of the first two books) the third, previewed at TYPO Berlin, will talk about typefaces.
The FABRICAMUSICA CD SERIES, published by Nuova Stradivarius and available for online purchase (www.stradivarius.it), presents the experimental musical projects done by young musicians from around the world during their period of research at Fabrica.
For further information:
+39 0422 516349
fabrica.it