Ponzano Children opens. A children's centre created by Benetton Group in partnership with the town of Ponzano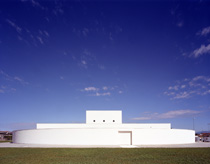 Ponzano Children, the children's centre created by Benetton Group in partnership with the town of Ponzano, opened its doors on September 10. The nursery school takes pre-school children from 1 to 6 years old, while the toddler center is for infants from 9 to 12 months. Up to 100 babies and infants, the children of residents of Ponzano and those of Benetton employees, will attend the school.
In a community like Ponzano, with a rapidly growing population, it was necessary to adapt and increase the educational facilities. "Years of population growth have created a town with insufficient public services. We're now moving in the right direction, we're correcting the imbalance between growth and facilities to upgrade the town in general, although this is a difficult task if we have only the council's resources to rely on. This common-purpose agreement between Ponzano Veneto town council and Benetton Group, to provide facilities for children, makes a substantial, concrete contribution to improving town services. It will bring relief to the pressing demands of families and other citizens for more services. It's an excellent example of co-operation between business and local authorities; I hope it will be replicated in other towns," said Ponzano's mayor, Claudio Niero.
Benetton has always held strong links with its town of origin and was keen to offer its help in creating the school. "To us, it's the most tangible way of providing an essential service which will improve the quality of life and work," remarked Luciano Benetton, "and, at the same time, it emphasises our ties to our local area and the community in which our Group was born, grew up and prospered. Furthermore, there is no better investment, in any community, than the investments made in children and their education; in other words, in a future we build together".
In planning an educational facility aimed at excellence, and conscious of the ethic and social role of its corporate culture, Benetton Group placed great importance on social interaction, research and the wellbeing of the community and therefore appointed Reggio Children as the pedagogic consultant for the new school.
Reggio Children is an international centre for the defence and promotion of children's rights and potential. Reggio Children works with nursery and junior schools to foster a culture centred around children and their rights, potential and resources, providing a teaching experience based on groundbreaking theories, constant commitment to experimentation and research, and a unique organisational approach. All this in a project which enhances each child's uniqueness, just as it recognizes the importance of all languages of expression, the value of diversity and the participation of the family and that of other citizens.
The centre was designed by Alberto Campo Baeza, an internationally renowned Spanish architect, in co-operation with architect Massimo Benetton. Commenting on his work, Campo Baeza says, "Our aim was to create a nursery school that not only functions impeccably, but is also able to offer a series of diverse spaces; a living building where children can dream and be happy".
The new centre is located behind Benetton's Ponzano headquarters. It was built on a 9,500 sq m green area, part of Ponzano's municipal territory. The school occupies about 1,900 sq m, while 5,000 sq m are laid out as parkland. The remaining area is occupied by paths and a car park. The building work started in September 2006 and was finished about a year later.
For further information:
+39 0422 519036
press.benettongroup.com
benettonpress.mobi