The first directly managed Megastore opens in Hamburg
Benetton grows in Germany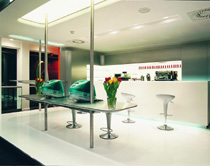 Ponzano, 23rd March 2000. Luciano Benetton inaugurates a new megastore today in Hamburg, the economic centre of northern Germany. This store is part of Benetton's new strategy to develop its commercial network. Through a decisive programme of direct investment in prestigious, strategically located buildings, Benetton aims to support growth of its world-wide network with megastores, some of which directly managed by the Group, characterised by their substantial dimensions and high quality of customer services.
Following Hamburg, other important megastores will be opened in Europe, in particular in Milan, Rome and Moscow, in the near future.   The Hamburg store strengthens Benetton's presence in Germany, its second market after Italy in terms of dimension and strategic importance.  It joins the other megastores managed by Group partners, recently opened in Berlin, Leipzig, Cologne, Düsseldorf, Stuttgart and Hanover, which are successfully contributing to the development of the quality of the German retail network.
With over 3,200 square metres distributed over four floors, the new Hamburg megastore, in the heart of the city (Rosenstraße 14/Paulstraße 3) and with its façade made entirely of glass, is the ideal show case for the Benetton total look. Inside, customers will find the complete United Colors of Benetton and Sisley collections for men and women, as well as underwear, shoes, bags and other accessories.
A significant amount of space will be dedicated  to the men's collections, Sisley in particular, making it a flagship store devoted to fashionable menswear. Additionally, customers will be able to meet and relax in the welcoming bar inside the store.
For further information: