The two volumes of Colors Notebook presented at Typoberlin 2008
The publishing project includes a CD tie-in, The quick fox and the lazy dog, a musical experimentation on the theme of type design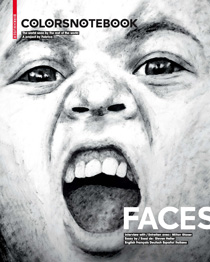 Ponzano, 31st May 2008. COLORS has chosen a prestigious setting, the 13th Internationale Designkonferenz TYPOBerlin 2008, to present its two-volume book COLORS Notebook and a CD, The quick fox and the lazy dog.
COLORS Notebook is a project launched in 2006 in collaboration with the Pompidou Centre and Reporters Without Borders, to give voice to those who are never heard. Blank copies ofColors are regularly sent to the extremes of the earth to give Chinese prison inmates, South African children, astronauts, disabled persons, artists and ordinary people a chance to express themselves without filters or censure.
The two volumes, Faces and Violence, are published and distributed around the world by the Swiss publisher Birkhäuser. They contain a selection of the COLORS Notebooks sent toCOLORS from more than 50 world nations. Testimonies, with no filters or censure, of situations of isolation, hardship, suffering and of surprising creativity and imagination.
The two volumes are further enriched with contributions from and interviews with leading figures in graphics and communication: Milton Glaser and Steven Heller inFaces, Rick Poynor and Stefan Sagmeister in Violence. For many of the writers, Notebookwas the first, priceless opportunity for them to make their voice heard. Faces is a collection of portraits and self-portraits from people around the world, while Violencepresents accounts, sometimes very harrowing ones, of injustices which occur all over the world. This is a Fabrica no-profit project; all royalties will be given to Reporters Without Borders.
After the presentation, the members of the audience will be invited to a workshop where they can give free rein to their creativity and produce their own Notebook: pencils, stencils, Polaroid cameras, scissors and glue will be available for anyone who wants to make their voice heard and tell their story in any way they like.
TYPOBerlin also provides the opportunity to present The quick fox and the lazy dog, a FabricaMusica CD published by Nuova Stradivarius. The CD takes its name from the pangram commonly used for testing typefaces and it draws inspiration from type design. After studying type history, eras and typographers, a young grant-holder working at Fabrica composed a series of electronic-classical rhapsodies with unmistakeable allusions to the type that inspired them.
AGENDA:
Saturday 31 May, 3 pm, TYPOshow, presentation of the COLORS Notebook Faces andViolence and of the CD The quick fox and the lazy dog
Saturday 31 May, 4 pm,   TYPOlab, workshop
TYPOBerlin
Haus der Kulturen der Welt
John-Foster-Dulles-Allee 10
10557 Berlin
www.colorsmagazine.com/notebook
For further information:
+39 0422 516209
colorsmagazine.com