Undercolors adds more Gloss
The new openings of Milan, Palermo and the restyling of Taormina with the elegance and inviting warmth of the new Gloss store concept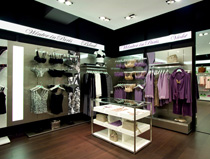 Ponzano, 4 April 2008. Undercolors – the Benetton Group's underwear, beachwear and nightwear brand – opens tomorrow three new important stores in Milan, Palermo and Taormina. These new locations confirm the fast growing pace of the brand, which in the past months has opened its doors in the most important Italian and European cities, with a style enhancing the brand identity.
Palermo, in particular, hosts one of the largest Undercolors in the world: 7 windows for the most complete display of the whole Undercolors range. In Milan the brand opens in Corso Buenos Aires, reknown shopping area. Glossy restyling for Taormina store in Santa Caterina square, the most striking square of the town.
New markets where Undercolors is concentrating future expansion are India and Eastern Europe. Undercolors turnover grew by 12% in 2007. Its international expansion will continue with 30 more new stores in the Spring Summer 2008, some of which with large surfaces, like Palermo for example, to offer the whole range of the brand.
Gloss, Undercolors' brand-new store concept, uses colours, forms and fittings to highlight the brand's more sophisticated, feminine identity and seduces customers with an inviting environment and a warmer, more personalized atmosphere. With this new store layout Undercolors' two lines are instantly distinguishable. Fun, the ironic line designed for those who prefer colourful, light-hearted underwear, looks its best against a glossy white background. Charme, the Clean Sensuality line for women who seek simple seductiveness, stands out against glossy grey walls. The shop windows have modular-panels making it simple to adapt product to space, showing off both to best effect.
For further information: