SISLEY YOUNG Autumn/Winter 2011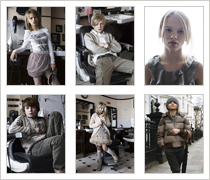 BRIT MOMENTS
Sisley Young chooses London as the background of its new collection for the young people who will lead the future. The story of an adventure experienced with a group of friends in one of the planet's coolest capitals.
Girl's collection
LADY BLACK - Black, of course, but with red accents for a more eye-catching look. Lots of denim and faux leather worn with T-shirts decorated with a "drip" effect or handwritten script motifs. The look is complimented with crocheted wool accessories.
GIRLY GIRL - For elegant little ladies who like to be chic and fashionable. Little dresses, tiered skirts and T-shirts are enriched with prints and appliqué lace. Gold details are emphasised through contrasting glossy and mat fabrics. And all in a range of delicate colours.
FASHION PREPPY - A preppy look with an on-trend twist is rejuvenated through the skilful use of bright colours and tartan. A modern fit gives new dash to classic styles like pea coats and short leather skirts.
PRINCESS OF ROMANCE - Dusty colours permeate the most romantic of the collection's themes. Embroidered tulle overlay little dresses with a simple cut and a sophisticated look worthy of a princess. Frills and draping add further elegance, while soft knitwear embraces our little Alices in Wonderland in supple volumes and fluid forms.
Boy's collection
COOL MOUNTAIN - The collection's winter theme is warmed by a natural colour palette. Echoes of the military look is emphasised by trousers; the reversible bomber jacket is the capsule collection's key item. Knits feature cabling and jacquard plus a "sprayed" effect.
AVIATOR WAY - Aviation is obviously the source of inspiration. Colours get cooler and the decorative motifs draw on the main theme of the narration. Everything is steeped in a vintage mood like the Madras-check outerwear, the tiny-check shirts and the short jackets in pure Red Baron style.
URBAN ROCK - An urban look, but with an edgier feel. Although black dominates the scene, dusty colours, rock-style photo prints and denim lend a softer touch. A crumpled effect gives a new look to the theme's diamond-patterned knitwear.